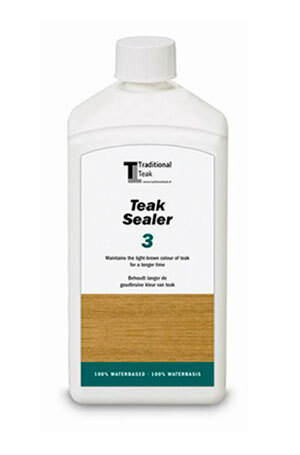 Teak Sealer 3
This easy to apply Teak Sealer 3 retains the honey brown colour of teak for a longer period of time.
Why is Teak Sealer 3 so much better than teak oil or other maintenance products?
It retains the honey brown colour of teak longer.
Teak oil often leaves black spots on the teak. Teak Sealer 3 prevents those black spots.
Teak Sealer 3 from Traditional Teak is water based, not greasy and doesn't spot.
Before using the Teak Sealer 3 on dark grey teak, clean the wood with Teak cleaner & brightener 1&2
If cleaned wood feels rough, sand lightly before treating with Teak Sealer 3
Make sure the teak is 100% dry and free of dust.
Before using the Teak Sealer on new teak, put the furniture outside to weather for a week.
Cover the ground under your work area before starting.
Shake for at least one minute before use. Insufficient shaking can lead to uneven decolourisation.
We suggest you try Teak Sealer on a small area first (e.g. the back of the leg) to judge if the colour meets your expectations.
Apply a thin layer of Teak Sealer with a soft Cloth evenly over the furniture. Allow to dry for 30 minutes and then apply a second thin coat of Teak Sealer.
It is recommended that you treat your teak furniture with Teak Sealer once a year.
NEVER USE A HIGH PRESSURE WASHERS ON YOUR TEAK FURNITURE
Always use gloves before using cleaning liquid's.
IMPORTANT: KEEP FROST FREE 
Read more?