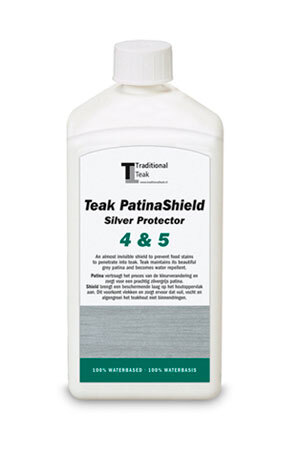 Teak PatinaShield 4 & 5
Teak PatinaShield 4&5 is a colourless protector that prevents food (coffee, ketchup, red wine, oil, etc) to enter the teak and cause stains.
This colourless water-based PatinaShield protects the wood from moisture, rain and by doing so, delays the proces of your teakfurniture getting dirty and getting green algae.
The teakfurniture maintains it's beautifully silver grey patina longer and requires less cleaning. Just like in 1 & 2, Traditional Teak has combined two components together with the PatinaShield 4 & 5, so that you can save one stage.
Before using the PatinaShield on dark grey teak, clean the wood with Teak cleaner & brightener 1&2
If cleaned wood feels rough, sand lightly before treating with PatinaShield.
Make sure the teak is 100% dry and free of dust.
Before using the PatinaShield on new teak, put the furniture outside to weather for a week.
Cover the ground under your work area before starting.
Shake for at least one minute before use.
Apply a thin layer of PatinaShield with a soft cloth. Allow to dry for one hour and then apply a second thin coat of PatinaShield.
Let the teak dry for 48 hours before exposure to moisture.
It is recommended that you treat your teak furniture with PatinaShield a few times per year. Table tops should be treated more often.
NEVER USE A HIGH PRESSURE WASHERS ON YOUR TEAK FURNITURE
Always use gloves before using cleaning liquid's.
IMPORTANT: KEEP FROST FREE 
Read more?