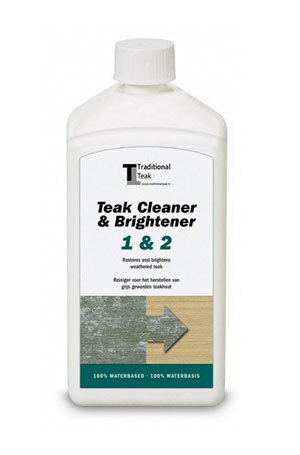 Teak Cleaner and Brightener 1 & 2
To clean discoloured grey teak and to bring it back to its original honey brown colour, you should use Teak Cleaner and Brightener 1 & 2.
This water-based formula is not only an excellent cleaner but is also equipped with lighting ingredients, which brings back the original colour of teak.
Usually you have to do the cleaning and lighting in 2 stages with 2 bottles; our formula saves you a lot of time, without having to compromise on the result.
First moisten the furniture with water
Shake the teak cleaner & brightener before use
Apply Teak cleaner & brightener with a soft cloth or sponge and allow to soak for 3 minutes
Brush the furniture clean with the Easy scrub in the direction of the grain
Rinse the furniture well with water
NEVER USE A HIGH PRESSURE WASHERS ON YOUR TEAK FURNITURE
For prolonged colour, leave the furniture to dry and treat with Teak Sealer 3.
To  protect the furniture against moisture, adhesion of dirt and prevent mildew growth we advise you to treat the furniture with Teak PatinaShiel 4&5. Even if you do not choose to use Teak Sealer 3.
Eye protection and rubber gloves should be worm before using cleaning liquids
Read more?