Maxima side and coffee table
Multi-purpose coffee or side table 
Inspired by the simple and clean lines of La Grande Arche in Paris, …..
Read more?
Product information
Inspired by the simple and clean lines of La Grande Arche in Paris, these sleekly designed Maxima side- and coffee table, which come in different sizes. The Maxima coffee table is specially designed to complement the Maxima lounge, but can also be used with other lounge combinations.
The Maxima Coffee table (120 x 80 cm) can be used in combination with 1 or 2 Maxima Large side tables (71 x 58 cm) to create a nest of tables.
Thus does the table needs to be big – bigger or huge, decide for yourself.
The Maxima side and coffee tables are made from the very best FSC- teak wood, harvested according to current responsible forest management standards and reinforced with powder coated stainless steel elements.
DESIGNER
Dick Björk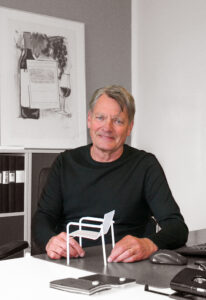 Dick's interest in furniture design was ignited at an early age where he spent a considerable amount of time in his parent's iconic furniture shop in  Helsingborg, Sweden. Starting in his teenage years,
Dick funded his passion for design by working after school and weekends assembling furniture, a task that laid the foundation for his passion for perfecting even the smallest of details. Dick went on to study metal work and trained as a  kabinetmaker. Having worked as a craftsman at some of Sweden's leading furniture producers, Dick turned to furniture design. His early work include pioneering mixed material outdoor furniture for legendary Berga Form of Sweden.
Lenght: 40 - 71 - 120 cm
Width: 40 - 58 - 80 cm
Height: 36 - 34 - 41 cm
For the maintenance of your teak furniture we advise you only to use the products available by Traditional Teak;