Carmen table
Interesting conversations at this round table.
Designed by Povl Eskildsen, this table is a solid teak table designed for outdoor use. The CARMEN table is available in 2 sizes: Ø 132 and Ø 150 cm.
Read more?
Product information
Although designed for outdoor use, the striking stainless steel-reinforced table makes as prominent an impact indoors as it does outdoors.
The placement of the legs creates the elegant and balanced look of the Carmen table. The design of the Carment table's recessed table legs allows for unobstructed access and provides legroom on all sides of the table.
The seamless shapes allow the table to be effortlessly paired with any chair in the Traditional Teak collection.
This solid round Carmen table is made from the very best certified teak.
DESIGNER
Povl Eskildsen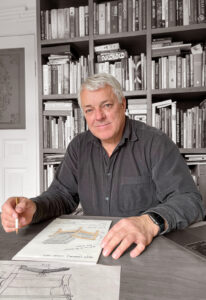 A product of the classic Danish furniture tradition, Povl's interest in design in general and furniture design in particular, started at a young age on the shop floor of his parent's furniture factory in Salling,
Denmark. Povl studied architecture at the Aarhus School of Architecture. He innitially worked with a number of Danish indoor furniture companies, before turning his sights on outdoor furniture. Working with among others, several respected outdoor furniture brands, Povl brought a new sense of design into the outdoor furniture lndustry, in particular in teak furniture, where his designs brought the elegance & comfort that had been the norm in Danish indoor furniture for decades to a category where weight rather than design and comfort had been key selling parameters.
Table hight: 74 cm
Bottom of table top: 71 cm
Ø: 132 - 150 cm
For the maintenance of your teak furniture we advise you only to use the products available by Traditional Teak;